For Immediate Release
October 19, 2023
Cranford, NJ– On Thursday, October 19, 2023, the WBB Research Institute and the Foreign Policy Association will sponsor an important forum at the United Nations titled "A Tale of Two Pandemics: 1889 & 2019, Insights for Pandemic Preparedness."
The forum will examine how responses to prior influenza pathogens predicated global responses to COVID.
The event will feature experts representing multiple disciplines and perspectives who will outline problems that may lie ahead given our actions in response to Covid-19.
Distinguished participants include:
Corinne LeGoff, President, CEO, and Director, Imunon Corporation discussing development of the Covid 19 mRNA and DNA-based vaccine platforms.
Stijn Van Nieuwerburg, Columbia University Graduate School of Business, speaking about the Realities of Commercial Real Estate – global economic and social repercussions.
Alain Gagnon, Professor at the University of Montreal, explaining the effects of the 1889 pandemic on the 1918 influenza pandemic and implications for 2019 and beyond.
Gregory Wawro, Professor of Political Science, at Columbia University School of Professional Studies describing the political implications of the 1889 and 2019 pandemics.
Steve Brozak, Founder & CEO of WBB Securities and the WBB Research Institute examining the economic consequences of the two pandemics.
The forum will be moderated by Dr. Richard Marfuggi, a Medical Ethicist, Medical Historian, and Medical Director of the WBB Research Institute.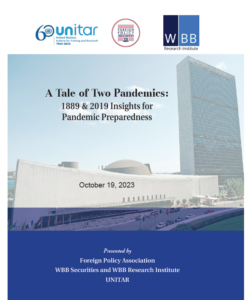 About WBB Research Institute.
The WBB Research Institute is a newly formed, independent, non-ideological, public policy research center fostering and applying specialized knowledge to a diverse range of health issues. The institute's mission is to inform leaders in commerce, industry, government, and public policy about key issues emerging at the intersection of healthcare and industry.  The Institute presents and publishes seminars, discussions, articles, and studies to better enable leaders from government, media, and other involved interests to both inform the public and improve the quality of our lives.
About The Foreign Policy Association (FPA).
The Foreign Policy Association is a non-profit organization, founded in 1918. The mission of the Foreign Policy Association today, as it has been throughout its 105-year history is to catalyze developing awareness, understanding, and informed opinion on U.S. foreign policy and global issues. Through its balanced, nonpartisan publications and programs, FPA encourages citizens to participate in the foreign policy process.
About The United Nations Institute for Training and Research (UNITAR)
The United Nations Institute for Training and Research is a dedicated training arm of the United Nations system. UNITAR provides training and capacity development activities to assist mainly developing countries with special attention to Least Developed Countries (LDCs), Small Island Developing States (SIDS), and other groups and communities who are most vulnerable.